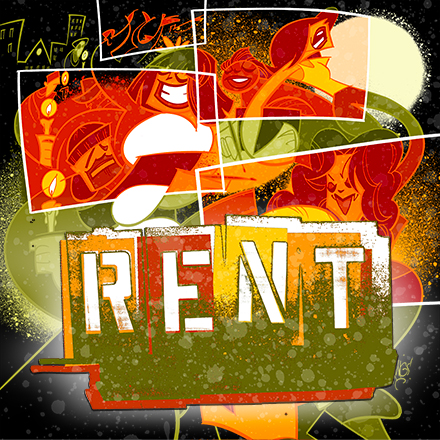 August 22 – 27, 2023
The 2023 Broadway At Music Circus season ticket renewal period for current subscribers is December 5, 2022 – January 13, 2023.
Request group tickets starting Monday, February 6, 2023 at Noon.
Season and single-show tickets will go on sale starting February 13, 2023 at Noon.
Set in the East Village of New York City, the Pulitzer Prize-winning musical that shaped a generation of audiences is about falling in love, finding your voice and living for today. Featuring songs that rock and a story that resonates with audiences of all ages, RENT has become a pop cultural phenomenon. Broadway At Music Circus premiere.
Performance Dates & Times
Content Guide: Set in New York City's East Village in the early era of the AIDS epidemic, the musical contains adult language and content, and references to drugs and mild violence.
*Be wary of buying tickets from any source other than this website, the Broadway Sacramento Box Office, or the Memorial Auditorium/SAFE Credit Union Performing Arts Center Box Office. Broadway Sacramento is unable to seat, replace or refund for fraudulent, invalid or duplicated tickets.
Accessibility
*Broadway Sacramento offers many services for Broadway At Music Circus and Broadway On Tour shows to help provide access and to promote the inclusion of our patrons with disabilities. For more information visit our Accessibility page.