2023-24 BROADWAY ON TOUR SEASON
2023 – 24 SEASON TICKETS ARE NO LONGER ON SALE
Single-show Tickets & Group Sales On-sale Dates Listed on Individual Show Pages
The Sacramento engagement for JAGGED LITTLE PILL was rescheduled due to scheduling changes made by the tour.  Tickets for the new dates were mailed to season ticketholders on Sept. 13.  Tickets for the originally scheduled dates can be discarded.  For questions please call the Broadway Sacramento Box Office, (916) 557-1999.
Many Broadway On Tour shows will sell out. So the best way to guarantee that you can see every show in the season is by ordering season tickets. It's also the best way to get tickets at the lowest possible price, since buying a pair of season tickets can save up to $144 over the single-show ticket price for a pair. You get substantial savings, plus the peace of mind knowing that you'll never get shut out of a sold-out show.
SEASON TICKETS
Season tickets for the 2023-24 Broadway On Tour Season are no longer available.
SAFE PAC SEATING
Season Ticket Prices
$161 – $479 for 5 Shows Including HADESTOWN, AIN'T TOO PROUD, SIX, ANNIE, JAGGED LITTLE PILL
$190 – $569 for 6 Shows, Also Including DR. SEUSS' HOW THE GRINCH STOLE CHRISTMAS! THE MUSICAL
$198 – $576 for 6 Shows, Also Including LES MISERABLES
$227 – $666 for All 7 Shows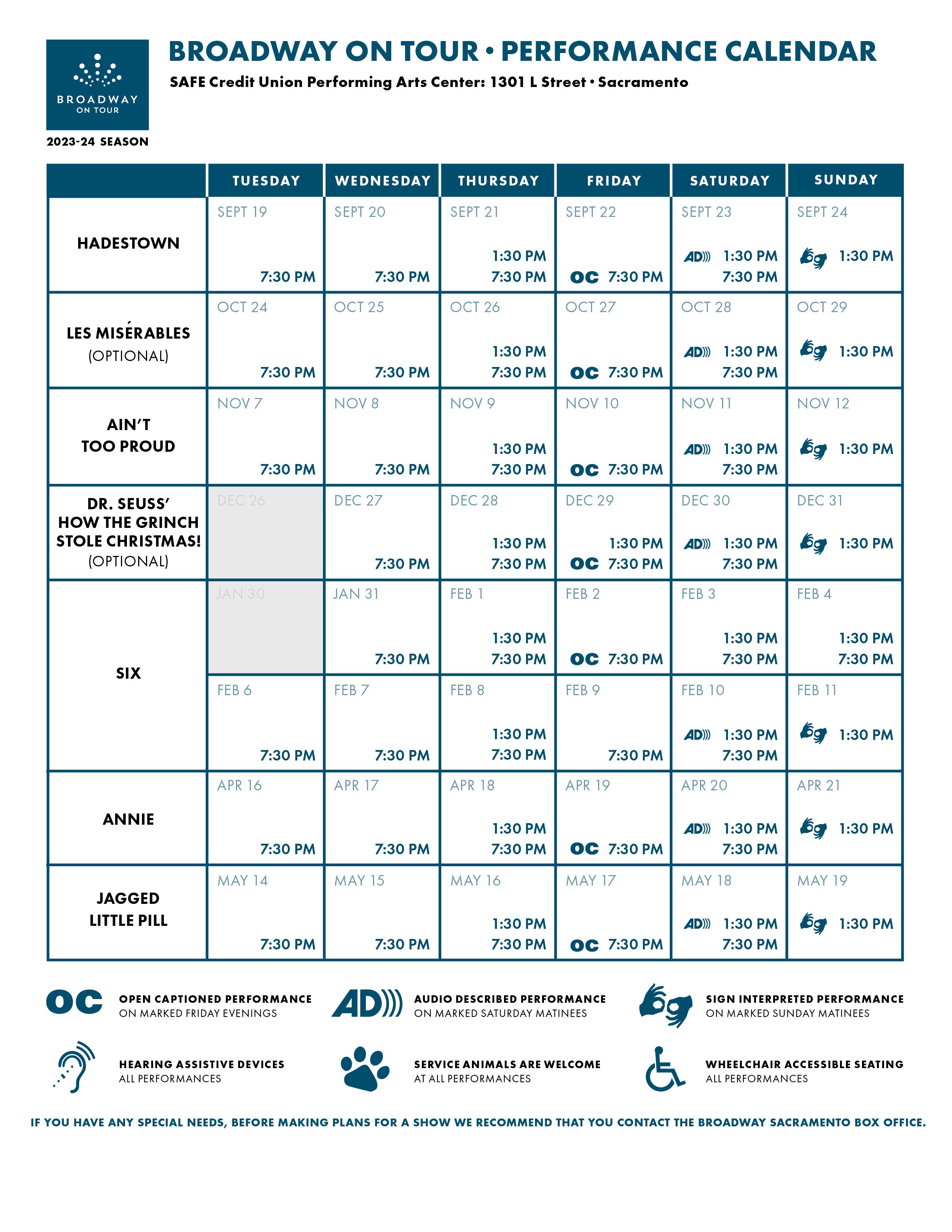 Tickets Available by Phone or In Person at Broadway Sacramento Box Office
(916) 557-1999
1419 H Street, Sacramento, CA 95814
Open Mon. – Fri. Noon – 5 PM
Questions/Info Request:
[email protected]
Exclusive Season Ticket Benefits
Big Savings Over Single-show Tickets: Save up to $144 over the single-show ticket price with a pair of Broadway On Tour season tickets.
Best Seats Available: Season ticket orders are processed before single-show tickets go on sale, so it's the best opportunity for great seating.
Guaranteed Access: Shows will sell out! Secure your seat before they go on sale to the general public.
Guaranteed Renewal Privileges: Returning season ticketholders can request an upgrade to seat locations before new season ticket orders are filled.
Lost Ticket Replacement: You can get lost or stolen tickets replaced quickly and at no charge right up to the time of performance.
Priority Processing of Group Orders: Ordering a group of 10 or more tickets? Season ticket holder orders are processed before non-season orders, based on your renewal date.
Priority Processing and Discount for Extra Tickets: Order additional tickets before the general public and lock in the lowest prices and best seat locations.
Free Exchange Privileges: Change in plans? You can exchange your tickets, with no service charge, for another performance of the same show. Subject to availability. To exchange tickets, you must contact box office 48 hours before the earlier performance with tickets in hand. Exchange policies are subject to change per touring show restrictions.
Here's How It Works
Season tickets are for the same day of the week and performance time for each show in the season. For example, if you order season tickets for Thursday evenings, your tickets for all shows in the season will be for the Thursday evening performance. Of course, if you want to attend a different performance, one of the many benefits of being a season ticket holder is that you can exchange your tickets for another performance of the same show (subject to availability).
Ticket Resales
Season and group tickets are revocable licenses, and Broadway Sacramento reserves the right to invalidate tickets and suspend future sales for anyone caught or suspected of reselling those tickets for more than face value.