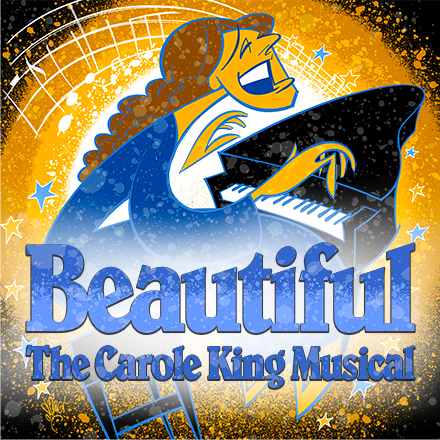 June 13 – 18, 2023
The 2023 Broadway At Music Circus season ticket renewal period for current subscribers is December 5, 2022 – January 13, 2023.
Request group tickets starting Monday, February 6, 2023 at Noon.
Season and single-show tickets will go on sale starting February 13, 2023 at Noon.
BEAUTIFUL – THE CAROLE KING MUSICAL tells the Tony* and Grammy* Award-winning inspiring true story of King's remarkable rise to stardom, from being part of a hit songwriting team to becoming one of the most successful solo acts in popular music history. Along the way, she made more than beautiful music, she wrote the soundtrack to a generation. Broadway At Music Circus premiere.
Performance Dates & Times
Content Guide:  Younger children may have difficulty following the plot. There is no foul language, but there is talk about the use of drugs. Teens will likely identify with the opening scenes when teenage Carole stands up for herself to pursue her passions and follow her dreams. Adult Carole faces marital strife and infidelity as she comes into her own as an artist.
*Be wary of buying tickets from any source other than this website, the Broadway Sacramento Box Office, or the Memorial Auditorium/SAFE Credit Union Performing Arts Center Box Office. Broadway Sacramento is unable to seat, replace or refund for fraudulent, invalid or duplicated tickets.
Accessibility
*Broadway Sacramento offers many services for Broadway At Music Circus and Broadway On Tour shows to help provide access and to promote the inclusion of our patrons with disabilities. For more information visit our Accessibility page.