The Broadway At Music Circus Junior Company program trains child performers during the summer season to participate in a Broadway At Music Circus production alongside professional actors and crew. Participation in this program is by audition only.
---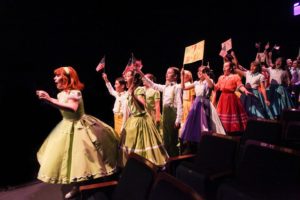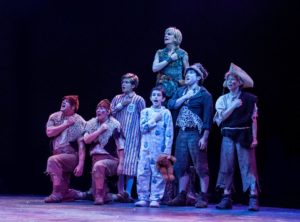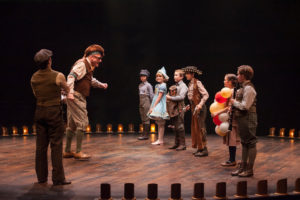 Local youth auditions for CAROUSEL and KINKY BOOTS will be held in the spring. Dates are to be announced.
Local youth interested in the roles of MARY LENNOX or COLIN CRAVEN in THE SECRET GARDEN should follow the following instructions. Video submission deadline: 2/4/2022
PREPARATION INSTRUCTIONS:
Please sing a song of your choice using your own accompaniment or please use the following material.
MARY LENNOX: Female identifying girl, age 10, child soprano (Ab3 – G5). Raised in India, Mary lost her parents to cholera leaving her bewildered and alone. Now an orphan, she is sent to live with her uncle and only relative, Archibald Craven. Mary is precocious and demanding yet has a warmth that helps rejuvenate the many inhabitants of her uncle's manor. Sings: "I Heard Someone Crying" and "The Girl I Mean to Be
Material for MARY LENNOX can be found here https://tinyurl.com/5n8hcn7b
COLIN: Male identifying boy, 10-11, child soprano (A3 – E5). Archibald's son and Mary's cousin. Believed to be ill, he is sequestered in the upper floors of the manor and grows bitter in his isolation. Once he meets Mary, Colin reveals his sweet-natured side and learns to overcome his illness. Sings: "Round-Shouldered Man," and "Come to My Garden."
Material for COLIN CRAVEN can be found here https://tinyurl.com/2p893dwa
Please prepare a video in downloadable form (i.e. WeTransfer, Google Drive, or Dropbox). When preparing your video submission please slate stating your name and location and record horizontally in a well-lit space.
SUBMISSION INSTRUCTIONS
Please submit current HEADSHOT and RESUME as attachments, and prepared VIDEO SUBMISSION as a downloadable link. You may provide links to additional videos (Any additional video submissions will only be viewed if time allows). Please type your full name in the subject line of the email.
In the body of your email please provide answers to the following:
1. Full stage name
2. Height
3. Phone Number
4. Email Address
5. Mailing Address (Address, City, State)
6. Agency
7. Vocal Type / Range
8. Dance Training / Styles
9. Are you interested in Ensemble? (Yes / No)
SUBMIT TO
[email protected]
Contact us for more information

Music Circus Junior Company