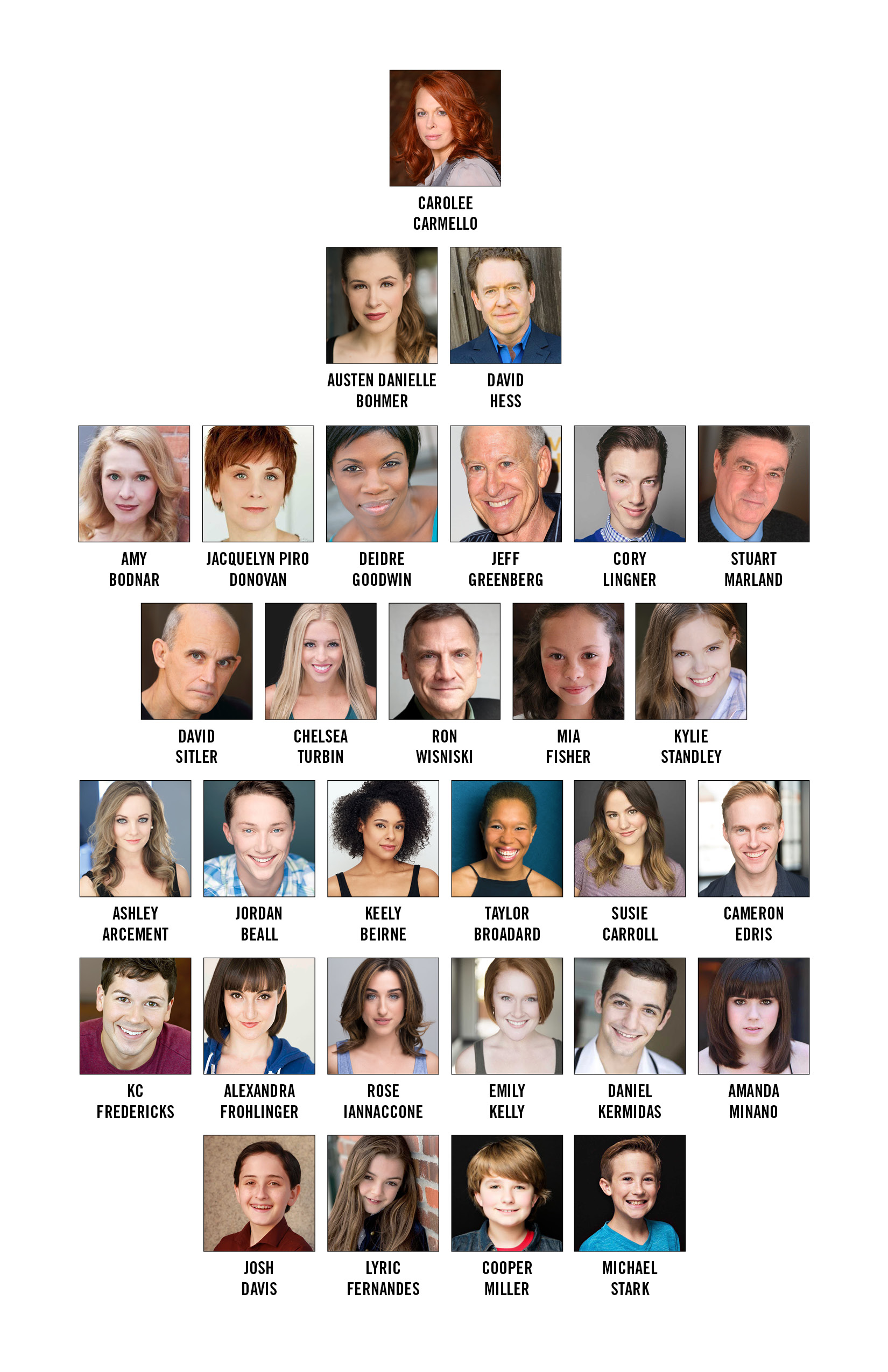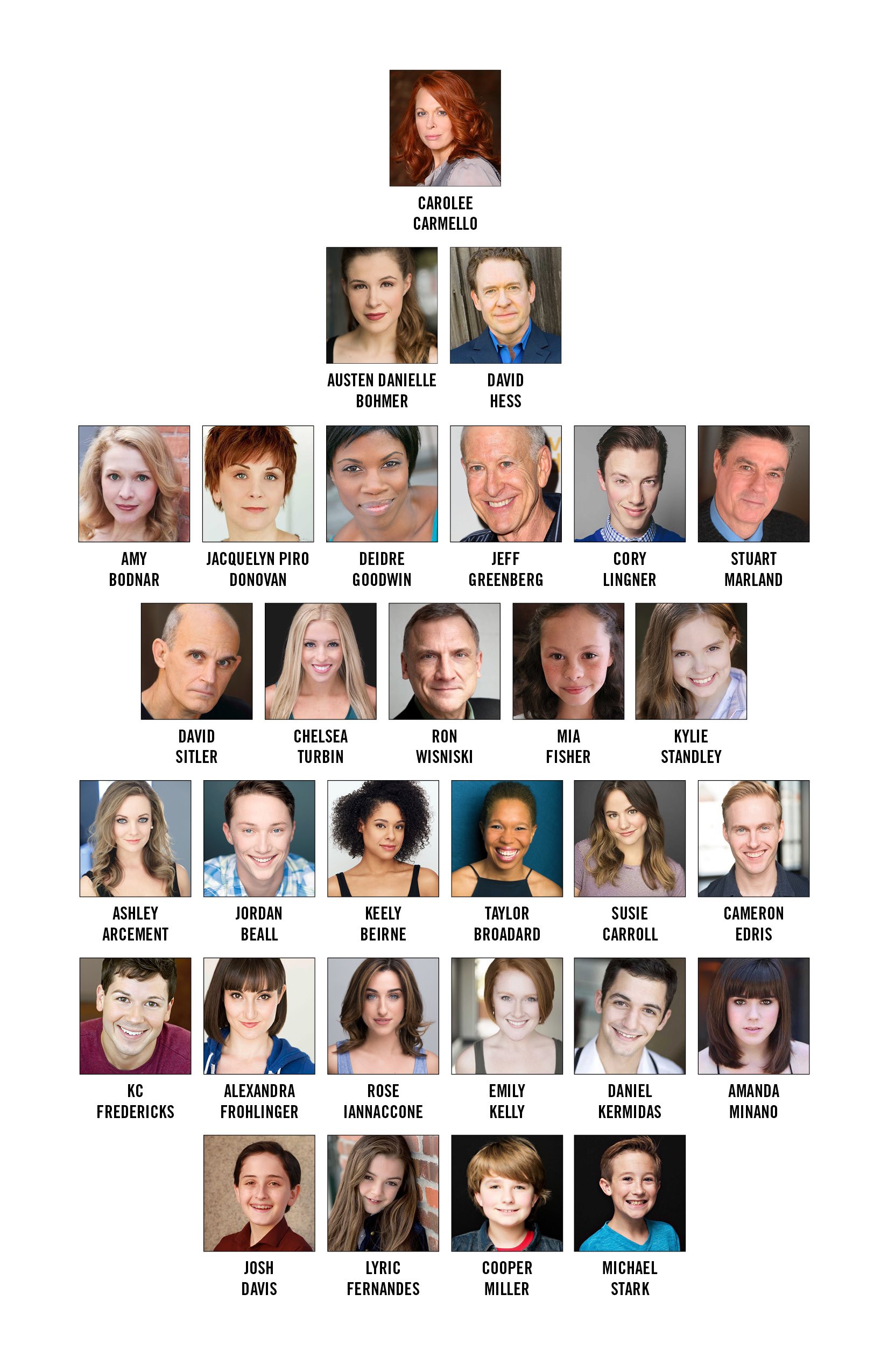 Director: Glenn Casale
Choreographer: John MacInnis
Music Director: Craig Barna
Broadway veteran and multi-Tony Award nominee Carolee Carmello will be taking on the role of the indomitable Mama Rose this summer in Gypsy. Carmello most recently appeared as Mrs. Lovett in Sweeney Todd: The Demon Barber of Fleet Street at Barrow Street Theatre. Her extensive Broadway credits include originating the roles of Mae Tuck in Tuck Everlasting, Aimee Semple McPherson in Scandalous the Musical, Mrs. du Maurier in Finding Neverland, and Lucille Frank in Parade as well as appearing on Broadway in Sister Act, The Addams Family, Mamma Mia!, Lestat, Falsettos, 1776 and more. Austen Danielle Bohmer, will make her Broadway At Music Circus debut as Louise, a role she has played in two previous productions; her regional credits include Lydia Wickhim in Miss Bennett: Christmas at Pemberley, Ariel in The Little Mermaid, Bye Bye Birdie, One Man, Two Guvnors, and Oklahoma!. David Hess, returns to Broadway At Music Circus as Herbie, after previously appearing in the 1995 production of She Loves Me. He has appeared on Broadway in Sunset Boulevard, Sweeney Todd, and Annie Get Your Gun, in the first national tours of Bridges of Madison County and Ragtime, as well as TV appearances on Madam Secretary, The Americans, Elementary, and The Good Wife.
Last at Broadway At Music Circus for the 2010 production of Dirty Rotten Scoundrels, Amy Bodnar, returns as Tessie Tura, previously appearing as Laurey Williams in Oklahoma! and Evelyn Nesbit in Ragtime on Broadway, as well as touring as Betty Haynes in White Christmas, Marguerite in Scarlet Pimpernel and Betty Schaefer in Sunset Boulevard. Playing Electra, Jacquelyn Piro Donovan's Broadway and tour credits include Les Miserables, Miss Saigon, Sunset Boulevard and The Secret Garden, as well as extensive Broadway At Music Circus appearances including Hello, Dolly!, The Wizard of Oz, and last summer's Beauty and the Beast as Madame de la Grand Bouche. In addition to appearing on Broadway in A Chorus Line as Sheila Bryant, Chicago as Velma Kelly, Nine, and The Rocky Horror Show, Deidre Goodwin, playing Mazeppa, has appeared on film and TV in Chicago, The Bourne Legacy, Love and Other Drugs, Madam Secretary, Elementary, and Search Party. Playing Tulsa is Cory Lingner, who was last at Broadway At Music Circus in 2014 as Mark in A Chorus Line; his Broadway appearances include Charlie and the Chocolate Factory, An American in Paris and On the Town, as well as performing at the Tony Awards, in the Macy's Parade, and for Saturday Night Live when Jim Parsons hosted.  Chelsea Turbin, most recently in Chess at the Kennedy Center, will make her Broadway At Music Circus debut as June, having previously appeared with the international tour of American Idiot and in regional productions with The MUNY, Maltz Jupiter Theatre, and Seaside Music Theater.
Additional roles in this production will feature Jeff Greenberg, Stuart Marland, David Sitler and Ron Wisniski.  Jeff Greenberg is an Emmy-winning Casting Director, with over 30 years of experience, making his first appearance at Broadway At Music Circus; his extensive career includes casting for Frasier, Modern Family, Cheers, Wings, and many more.  Stuart Marland's Broadway At Music Circus appearances include Horace Vandergelder in Hello, Dolly! (2016) and Mr. MacAfee in Bye Bye Birdie (2015) as well as numerous Broadway productions including Newsies, Xanadu, Jekyll & Hyde, Beauty and the Beast, and Cyrano. David Sitler appeared on Broadway in An Inspector Calls and the national tour of Frost/Nixon, as well as Donnybrook and Beyond the Horizon with Irish Repertory Theatre and extensive regional theatre productions.  Ron Wisniski is a Broadway At Music Circus favorite who has extensive experience in touring and regional productions, and who will also be playing R.F. Simpson in this summer's Singin' in the Rain.
Mia Fisher returns this summer to Broadway At Music Circus as Baby Louise after appearing in last summer's production of Beauty and the Beast as Chip and locally in shows with Musical Mayhem Productions. Kylie Standley, playing Baby June, appeared in the national tour of A Christmas Story and recently at Capital Stage as Iris in The Nether; she has performed locally for El Dorado Musical Theater and with the Hawkins Classical Ballet Company.
CREATIVE
Director: Glenn Casale
Choreographer: John MacInnis
Music Director: Craig Barna
Costume Coodinator: Mark Koss
Scenic Designer: Christian Johnson
Lighting Designer: Charlie Morrison
Projection Designer: Caite Hevner
Hair/Wig/Makeup Designer: Christine Conklin
Properties Designer: Laura A. Walters
Sound Designer: Joe Caruso, Jr.
Production Stage Manager: Craig A. Horness
Assistant Stage Manager: Caitlin Sapunor-Davis
CAST
Rose: Carolee Carmello
Louise: Austen Danielle Bohmer
Herbie: David Hess
Tessie Tura/Miss Cratchitt: Amy Bodnar
Electra: Jacquelyn Piro Donovan
Mazeppa: Deidre Goodwin
Mr. Goldstone/Phil: Jeff Greenberg
Tulsa: Cory Lingner
Weber/Pastey: Stuart Marland
Pop/Kringelein: David Sitler
June: Chelsea Turbin
Uncle Jocko/Cigar: Ron Wisniski
Baby Louise: Mia Fisher
Baby June: Kylie Standley
Ensemble: Ashley Arcement
Ensemble: Jordan Beall
Ensemble: Keely Beirne
Ensemble: Taylor Broadard
Ensemble: Susie Carroll
Ensemble: Cameron Edris
Ensemble: KC Fredericks
Ensemble: Alexandra Frohlinger
Ensemble: Rose Iannaccone
Ensemble: Emily Kelly
Ensemble: Daniel Kermidas
Ensemble: Amanda Minano
Ensemble: Josh Davis
Ensemble: Lryic Fernandes
Ensemble: Cooper Miller
Ensemble: Michael Stark