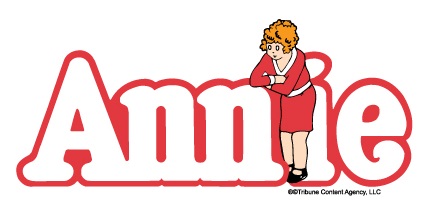 Jul. 21-26, 2020
Season Tickets On Sale Now!
Single-show Tickets On Sale Apr. 3
Winner of seven Tony Awards, this beloved musical is a tribute to the optimism and resiliency of youth, a wondrous story that brings hope to the hearts of children and adults alike. Follow Annie, with her lovable dog Sandy, as she foils Miss Hannigan's evil schemes, befriends President Franklin Delano Roosevelt, and escapes the orphanage to find a new home with billionaire Oliver Warbucks. Featuring such unforgettable songs as "Hard Knock Life" and "Tomorrow."
Performance Dates & Times
CONTENT GUIDE: A full-length musical about the adventures and travails of an orphan during The Great Depression. The girls at the orphanage verbally bicker, but ultimately support one another; Miss Hannigan, an alcoholic who runs the orphanage, is rough on the girls. Features very mild language and some characters young children may find scary. 
*Be wary of buying tickets from any source other than this website, the Wells Fargo Pavilion Box Office, or the Convention Center Box Office. Broadway Sacramento is unable to seat, replace or refund for fraudulent, invalid or duplicated tickets.
Accessibility
*Broadway Sacramento offers many services for Broadway At Music Circus and Broadway On Tour shows to help provide access and to promote the inclusion of our patrons with disabilities. For more information visit our Accessibility page.